Chiang Mai
Situated in the north of Thailand Chiang Mai has an International Airport and a high-speed railway link is planned with Bangkok. Once the capital of Lanna; Chiang Mai maintains a strong conservative and family culture. A university city, Chiang Mai boasts 6 universities with Chiang Mai University having a renowned medical faculty. Chiang Mai is a low crime city matching the conservative culture of the north. As many as 40,000 foreigners call Chiang Mai home. The primary draw is the low cost of living and medical care. Chiang Mai boasts a more temperate climate than much of the rest of this country, as well as modern infrastructure and an abundance of Western amenities. Thailand has had its share of political unrest in recent years, but Chiang Mai has been largely unaffected. Thailand is the land of smiles. The gentle, unfailingly polite locals endear visitors and welcome foreign retirees.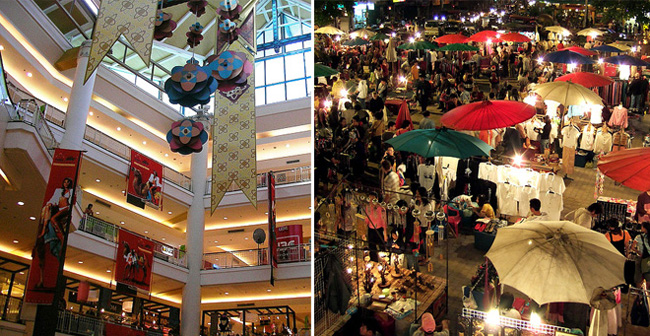 Shopping

Chiang Mai is blessed with a number of world class shopping centres, 3 supermarket chains, one of which specialises in Western goods. The Night Bazaar is famous throughout the world for attractive souvenirs and gift items but Chiang Mai has so many markets and other shopping options it is no wonder it is known throughout Thailand for its bargains.

Community

The expat community is very strong in Chiang Mai containing people from a wide variety of nations. There are a wide variety of meetings, clubs and activities to meet people's interests.

Entertainment and Restaurants

Chiang Mai's cinemas and theatres show English and Thai attractions. Chiang Mai has a real variety of restaurants of every conceivable type.





Sports

Chiang Mai has a wealth of sports-including a Thai First Division soccer team, horse racing, and many excellent golf courses. The 700 Year Sports Centre in Chiang Mai is host to many pan-Asian sporting competitions

Sightseeing

A major tourist destination Chiang Mai has a wealth of tourist attractions. Elephant parks beautiful temples and floral gardens are particularly strongly represented but the variety of attractions is outstanding.

Medical Facilities





Chiang Mai is blessed with a good choice of world-class medical facilities. Thailand is renowned for the quality and affordability of its medical care. Hospital treatments are as low as 10% of the cost of the USA. The hospitals are set up to care for international patients and provide a wide range of language skills. The hospitals are mostly within a 30 minute drive of the resort.




Accolades

Chiang Mai has been voted the best retirement city in the world and was in the

TripAdvisor

'Top 20 destinations 2012'.
Weather

Chiang Mai has a far more pleasant climate than the rest of the country. Much of the year is mostly hot and sunny but Chiang Mai benefits from a cool winter season with particularly pleasant temperatures. Although there is a long rainy season and there are some 'rainy days' the tendency tends to be for short heavy showers mostly found in the evenings.