Facilities
The facilities at
Care Resort Chiang Mai
are excellent for a facility of this type. Spread over 12 acres (45,000 square

metres

) of land the resort is quiet, secure and beautiful. The resort has 58 villa rooms plus the 5 bedroom dementia unit.
Accommodation
Most of the accommodation is villas built in a modern Thai style, tastefully decorated inside in the same modern Thai style to provide a light and relaxing environment. Each villa has a terrace with garden, mountain or lake views. Inside the air-conditioned villas are tastefully equipped with refrigerator, DVD players and TV showing a selection of Thai, Western and Asian Channels including movies, news, sports and entertainment. We have a large DVD library for guest use. The villas have push and pull alarm systems that connect to our central nurse/care

centre

on the resort. Each villa has its own bathroom.

Spa
We have our own beautiful spa facility. Guests can choose from the wide range of massages and other spa treatments to give that totally relaxed and pampered feeling. Therapists are also able to give treatment in the guests room.

Swimming Pools/Sauna/Fitness Room/Library
The resort has 2 swimming pools, one with disabled access, both with Jacuzzi features. Nearby the pools is a sauna and fitness facility. In the lakeside relaxation

sala

is our excellent library.
Restaurant
The restaurant has options to eat inside (air-conditioned) or outside with garden views. The restaurant has disabled access.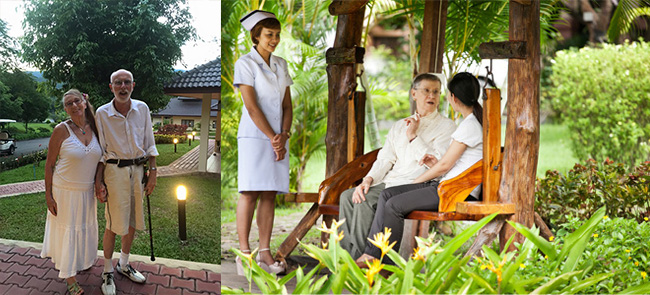 Relaxation/Activities
One of the key benefits of
Care Resort Chiang

MaiWi
is the many options for activities and relaxation. Our lounge and activity

centre

is the main location where guests can just relax or take part in activities.
The gardens of the resort have a plethora of shaded

salas

and sitting areas so enjoy the gardens out of the sun. In the

centre

of the resort is our lake, which has alongside it another relaxation area with a pool table, next to the nurse station.

W

alking through the gardens is a joy, such a wide range of trees, plants, insects and birds are available to enjoy.
Wi
-Fi
Throughout he resort there is an excellent
Wi-Fi
service and available in all of the villas.