About us
Care Resort Chiang Mai
is set in the beautiful and tranquil

Maerim

Valley some 20

kilometres

north of Chiang Mai, in the North of Thailand. The retirement facility is an enclosed 4 star facility built on 12 acres (50,000 square

metres

) of land with mountain views. The resort is incredibly beautiful and spacious, hosting more than 1,000 trees, gardens, a lake and fishponds. The care facility provides a safe environment away from the traffic and pollution but still only 30 minutes from the city.
The Resort





The resort is relaxing, quiet and secure. Accommodation is provided in beautiful villas sited throughout the gardens, each with their own bathroom facilities, air-conditioning and terrace. There are different designs of villas to suit your needs ranging from one bedroom studios or 2 room villas. Each villa is fully alarmed to the central nurse/care station.
The Care
Providing sufficient 'care' whilst maintaining individual dignity is our main philosophy. Adequate provision of care levels can achieve excellent improvement in both health and lifestyle.The retirement facility has its own dedicated, professional nursing staff (with nursing degree) and

carers

trained at assistant nurse level to give excellent care and stimulation to the elderly. The care is provided 24 hours and it is not rationed; the numbers of

carers

employed is determined by the care levels needed. Try comparing our

carer to

guest ratios because our levels are rarely seen in the West. We believe that good care works. Good care requires people numbers. We cater for all levels of required care whilst giving as much independence to the individual as their condition allows. We do not represent the view of an

institutionalised

nursing home; life with us is like living in a 4 star resort but with the required care on-hand. Our 'tagline' reflects our philosophy 'The life that you still deserve...with all of the care you need'.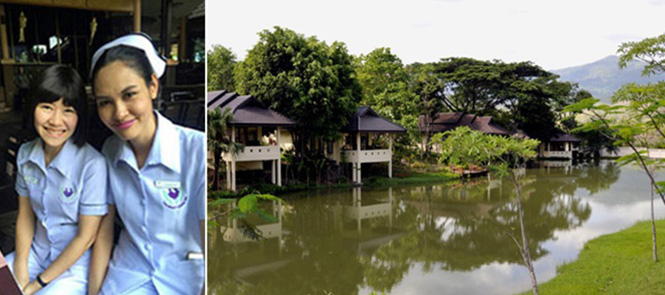 Why We Are Here



The b

eautiful retirement facility has been established to fulfill the needs of the elderly community who require more care as they reach that later stage in life and wish to live in the beautiful, friendly and affordable Thailand. We very much subscribe to the belief that even in the latter part of life people should be able to enjoy a quality in life, retain as much independence as possible and retain their dignity. It is a family-owned and operated business. We have tried to focus the resort as the type of environment that we would wish to live in. Our family lives on the resort (2 young children and a 94 year-old mother who suffers from dementia) and we pay close attention to the running of the resort and the care and happiness of our guests.
Our staff are predominantly Northern Thai people. This is an area a exceptionally strong family values and a conservative tradition. Northern Thai people have a natural respect for the elderly as part of their culture; they expect to care for the elderly and this provides the basis for an exceptional care ethic. It is not always easy to undertake the duties of caring for the elderly whilst remaining cheerful and friendly but, in the main, Northern Thai people seem to achieve it. If you have any questions at all, especially regarding pricing, please do not hesitate to contact us. We purposely do not publish pricing on the website because our pricing depends on the level of care necessary and the room type chosen, we prefer to discuss what you, or your relative, needs.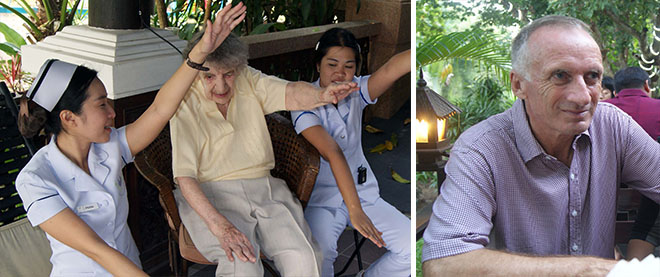 Kind Regards
Peter Brown