Long-Term Stay
"Independence with Care"
Most long-stay guests still wish to retain as much independence in their life as possible, even as they reach their later years, however they health situation may require them to have more care available. Preserving the 'dignity' of the guest is one of our key goals. We try hard so that our facility is not like a traditional 'nursing home' which often can be compared to a 'boarding school for the elderly'. Often reduced mobility reduces social life opportunities but we try to limit the impact by including all guests as much as is possible. Our service 'independence with care' is designed to allow a level of independence, opportunities for social gatherings, activities and stimulation; whilst providing a 24 hour care support.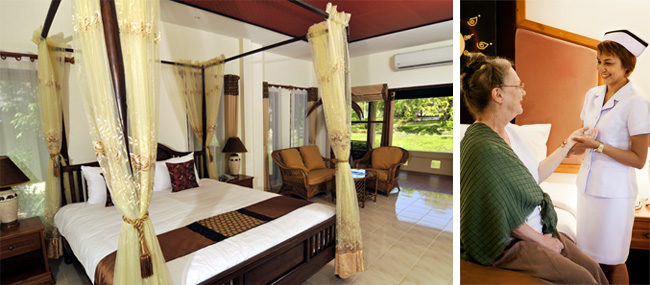 Meals
Meals are cooked in our own professional kitchens and provided in our guest restaurant. We do not have set 'mealtimes' guests can eat at a time of their choosing in broad time bands (e.g. breakfast 06:30 until 10:30) Meals include breakfast, lunch, and dinner and can provide a social gathering alongside the meal but because of the flexible meal times there is no compulsion to eat as a group . The menu choice is a mixture of Western, Thai, Asian and vegetarian cuisines with a focus on healthy eating but we have an extensive menu from which the guest can choose. We also try to meet guest's ethnic cooking,

favourites

or dietary requirements on request.
Accommodation
The villa units are beautiful, all provided with telephone and emergency alarms so that privacy and independence is available but care is at the touch of a button or pull of a cord. Each villa which are all garden situated, has a terrace with furniture for outside relaxation. Inside is air-conditioned with a small refrigerator and a TV showing Thai, Western and Asian channels including entertainment, sports, movies and news. Drink making facilities are provided.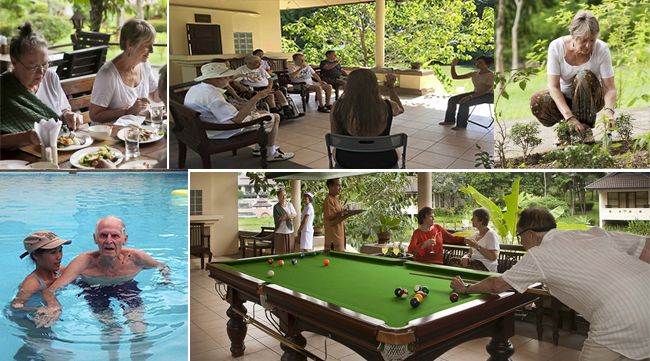 The Gardens
The resort is extensive and those who enjoy walking will love the variety of trees and plant and birds. Guests who wish to travel outside the resort independently are encouraged to do so. They will be supplied with an emergency phone in the event of any problems if they do not already have one.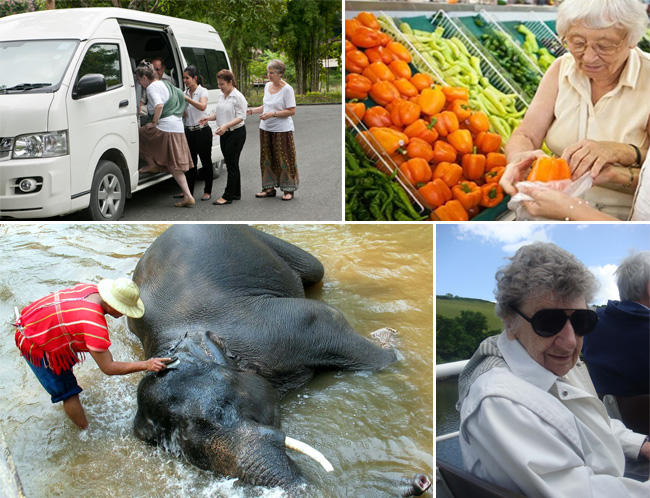 Activities
Modern medical thinking emphasizes the importance of activity and routine for the physical and medical welfare of the elderly. Our planned services will provide a variety of activities including arts and crafts, card and board games, singing, quizzes, needle-crafts, photography, fishing on our lake, gardening (guests are able to have a small garden area next to their villa for their own gardening enjoyment), cooking ,Nintendo and group games such as bingo or carpet bowls and of course swimming in our 2 pools. We have physical activities supervised by our qualified activities supervisor. These activities include yoga, Pilates, stretching, tai chi, z

orba

dance and aqua aerobics.Those who feel even more active can use our fitness room and sauna. The resort is fully

Wi-Fi

equipped with an excellent

Wi-Fi

signal and guests can be taught computer skills. We celebrate our guest's birthdays as well as the major holiday events such as Christmas and New Year.
Outside Activities/Excursions
It is important that guests do not feel confined to the resort however extensive it is. Weekly shopping trips are arranged as well as trips for religious purposes. Chiang Mai has a wealth of attractions and monthly trips take place to see sights, enjoy activities and gain knowledge of Thai life. The area around the resort is excellent for walking for those who feel more active.
In Resort Services
The resort hosts its own beautiful spa where a wide range of massages and spa treatments are available as well as manicures and facial treatments.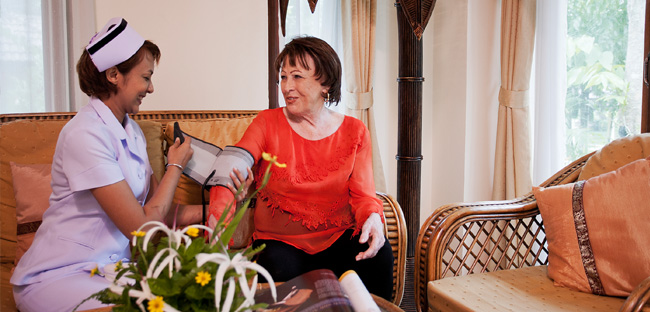 External Medical Services
Locally there are English-speaking doctors for advice or visits if the symptoms concern our nurses. In Chiang Mai we are fortunate to have cost-effective excellent world-class hospitals some 30 minutes drive from the resort. Hospital visits will normally be accompanied by our staff.

Health Checks and Care



The level of care provided is something that we take pride in. We do not limit care but tailor the care to the guest's needs. Each day guests will be visited regarding their health, welfare and happiness and the nursing and care undertake rounds during the day. Checks will be made if any guest fails to turn up for meals without notification but most guests are collected by the staff for meals. We want to ensure guests welfare as much as possible. Each day all guests will be given blood pressure checks as well as blood-sugar and other health checks if necessary. We are able to manage guest medication, including injection regimes, if required.
Disabled Guests
We must admit the resort with its slopes is not ideal for disabled guests so we have made adaptations to give disabled access where possible. We have new villas have been designed for disabled usage as they are all free from and step as well as having wider doors (90

cms

) to assist disabled access. There is disabled ramp access to the restaurant, guest lounge/activity

centre

, library, fitness, spa and health

centre

. The larger of our two swimming pools has ramp access; additionally we have added hydraulic disabled access to our minibus so that all guests are able to make excursions. Our

carers

assist disabled guests where necessary.

Couples
We welcome friends or partners that wish to stay together even if only one member requires care. Our wide variety of room options means that there should be a set-up suitable for all.
Friends and relatives



We encourage friends and relatives to visit and spend time with our guests. In the event that relatives wish to stay over we have accommodation for them; those traveling from abroad can enjoy a vacation during their stay. We provide an internet computer with Skype so that our guests can chat on webcam to their friends and relatives, providing a regular format to keep in touch.